Many abductees have had small devices placed inside their bodies. Common locations are deep inside nasal cavities, behind the eye, in the back of the head and neck; or in the feet, toes, hands, or jaw. These implants are real. We have photographs, X-rays, and CAT scans of them in place. Several of them have been successfully removed by medical teams. Upon removal the implants sometimes disintegrate, but most often they don't. It is believed these implants are used to monitor activities or the physical condition of the people in whom they are placed.
Every indication seems to be that the implants are from alien beings. However, no one really knows for sure. Even those doctors who remove them and do research on abductions continue to use the term "alleged"alien implants. Wherever they come from there is little doubt something extraordinary is going on.
So I'll tell you some remarkable things about these implants, and then I'll tell you about a couple of doctors who remove them. They have made some astounding discoveries. By the way, if there are any physicians out there, pay attention!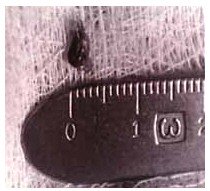 Photo of Alien Implant after removal
Courtesy of Dr. Roger Leir
The implants are made of a metallic substance. Some are small and round, the size of a BB. Others are no larger than a pin-head. They come in many different shapes: round, triangular, spiral, and thin as a fine wire. They are clearly visible on X-rays, and hundreds of X-rays of these implants have been taken and documented by researchers. Most of the implants found so far have been placed on the left side of the individual's body.
While in place, these implants are surrounded by an unusually strong covering of living tissue comprised of protein and keratin, the same stuff your hair and fingernails are made of. This covering is so strong and tough that surgeons cannot cut it with a hardened steel scalpel. This same scalpel can easily slice through bone. There is not anything on earth made by man that can match the strength of this simple outer covering.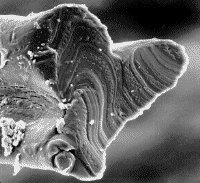 Cross section of an alien implant.
Implants have a structure that appears to be 'atomically aligned'.
It is thought that this covering is so strong because all its atoms are atomically aligned. That is, all the atoms lie in one single direction, providing a level of strength not yet achievable by humans. The only creature on earth that can atomically align something is a spider; the tensile strength of a filament of spider's web is amazing, which is why it can stretch so far without breaking. By the way, the tight-fitting space suits found on the alien bodies recovered from crashed flying saucers were also atomically aligned.
After an implant has been removed from a person's body, it is then possible to cut through the tough outer covering, possibly because the aligned atoms and the surrounding tissue are no longer being charged or powered by the abductee's electrical energy field.
Prior to being removed, the implants give off a very strong electromagnetic field. A Gauss meter (used to measure electromagnetic fields) registers off the scale when it is held next to the area of the body where the implant is located. However, once the implant is removed it no longer registers on the Gauss meter. The implication is that the person's own energy field is what powers the implant and allows it to generate the force field
While in place, there are large bundles of very sensitive nerves surrounding and growing into the implant; specifically, these are the same types of nerves that allow your hand to hold a glass with the right amount of pressure so as not to crush it, or to hold it so lightly as to drop it. These implants are often found in places where these kind of nerves don't normally grow, such as the back of the hand or in the jaw. Yet, an implant found in the jaw will be completely surrounded and penetrated by this kind of nerve tissue.
All the patients retained for study of the implants had no prior history or record of any surgeries. They had not had any accidents, and there were no other occurrences which would account for the implant being in place
Not only that, but in all the cases studied there was absolutely no sign of inflammatory response, either chronic or acute. There was also no wounding or scarring. There was no point of entry and no path of entry. Consider this: If we could insert metallic devices into the human body without any inflammatory response, then we would have the capability of doing complete organ transplants without any concern of rejection!
An electron microscope was used at a magnification of 100,000X and confirmed that tissue had grown right into the metallic surface of the implants. The implants are comprised of eleven different elements
These implanted devices have been examined by some of the world's leading metallurgy labs, including the lab at Los Alamos, New Mexico. Without knowing what the implants were or where they came from, the lab at Los Alamos concluded that the implants must be pieces of a meteorite, because no such metallic isotopes are found on earth. They put this in writing, in their lab report.
Operating under the same conditions, the metallurgy lab at the University of California at San Diego concluded that the metallic isotopes were "extraterrestrial."
KEN PFEIFER WORLD UFO PHOTOS AND NEWS
http://www.worldufophotosandnews.org
http://www.kenpfeiferdiscoveries.com
Special thanks to  http://www.aliens-everything-you-want-to-know.com/AlienImplants.html