MARCH 18, 1950 ……..TIOGA TEXAS
The wife of a Dallas attorney and a recruiting officer at the Naval Air Station Friday reported seeing flying saucers Thursday — one in Dallas County, the other twenty miles northeast of Denton in Grayson County.
Capt. M. A. Nation, NAS commander, said the phenomenon was the second observed at the air base in ten days.
Reports are being sent to Washington in both instances, he said.
Mrs. Margie Benavides of Grand Prairie, wife of Dallas Atty. Robert Benavides, reported that she and six other persons on a Denton-bound bus saw what appeared to be a flying saucer near Tioga.
Bus Driver E. B. Owens, 37, of Denison, confirmed Mrs. Benavides' story in a telephone report to The News. He set the time at about 6:10 p.m. and said he and the passengers watched the object for about twenty minutes.
Six and a half hours earlier, at 11:28 a.m., Chief Petty Officer Charley Lewis, 56, saw a disk streak at a B-36 bomber, follow under it for a second or two, then break away at a 45-degree angle.
The disk, he said, was oblong and flat and hurtled through the air at an incredible speed. After leaving the B-36, he said, it shot straight up into the air and disappeared in less than five seconds.

Convair B-36 Peacemaker Bomber

"I guess the whole thing took no more than fifteen seconds," he declared. "I've been in aviation for eighteen years and I've never seen anything like it. I don't mind telling you it shook me plenty."
Lewis said his brother-in-law, Jack Lawler, an ex-Air Force major from LaPorte, and Mrs. W. B. Webb, heard him shout and looked up in time to see the object.
Lewis said he immediately reported the incident to his superior officers.
He said the disk appeared to be about twenty to twenty-five feet in diameter. Its height, when he first observed it, appeared between 10,000 and 15,000 feet
"I just stepped out of my car and heard the B-36. When I looked up, I saw a very bright object racing at it at an incredible speed. It got under the bomber and seemed to hang there for a couple of seconds or so. Its color by then looked cream or light tan," he said.
Captain Nation said that C. E. Edmundson, a tower control operator, saw a similar object March 7.
"He estimated its speed at 3,000 to 4,000 miles an hour," Captain Nation said. "Of course, that's a pure estimate. He had no instruments to compute its speed."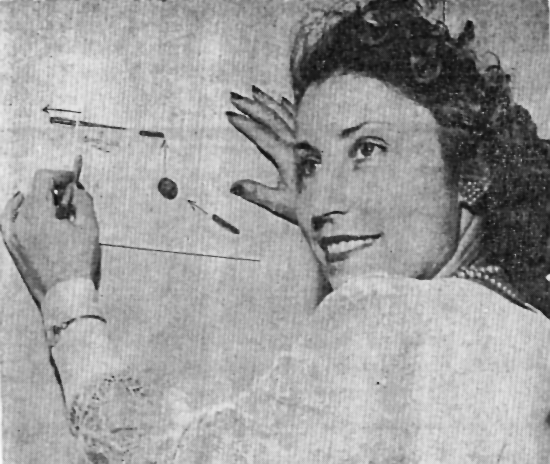 Mrs Robert Benavides sketches the action of a flying disk which she says
she saw Thursday near Tioga, Grayson County. It looked flat and rocked along slowly when she first saw it. Then it turned up on its side, shot straight up into the air and leveled off thirty seconds later and streaked south.

Mrs. Benavides said the disk she saw had the same general proportions as the lid from a baking powder can.
When I first saw it, it was just loafing along. The thin side showed and it looked like a straight line. It didn't do too much moving for several minutes. Then it turned up on its side and became almost round. When it did, it shot straight up in the air at a terrific speed. After it climbed for about thirty seconds, it leveled off and got flat again. It streaked off toward the south, and it had a tail like a comet."
Mrs. Benavides said she had no way of knowing how big the object was, or how far away.
"It looked like it might be hundreds of miles off. To the eye it looked about four inches in diameter. But if it was as far off as I think, it was a tremendous thing."
She said the only person on the bus that said he didn't see the object was a bespectacled man who had been drinking.
"His glasses were so thick and he was so full that he couldn't have seen it if it had been across the road from him."
Owens said the object, when its narrow side showed, seemed somewhat thicker in the front than in the tail. He estimated it was about ten miles away and said that to his eye it looked about the size of an auto tire.
"If it was ten miles away, it had to be pretty big to look the size of a tire," he said.
He said that he had observed the object for about five minutes before he called it to the attention of his passengers.
Both Owens and Mrs. Benavides said the object, silver-colored at first, turned golden with the sun's rays as it streaked across the sky.
All of the witnesses reached by The News said that there was no possibility that the object could be a plane or a weather observation balloon.
"I've been In aviation ever since I was a kid," said Lewis, "and I've never seen anvthing like it. It was smooth; there were no wings or projections from it, and it couldn't have been a jet or rocket ship because there was no fire."
Captain Nation said there were no jet planes in the area during any of the times the disks were reported.
And at Love Field Weather Bureau, Weatherman A. M. Hamrick said no observation balloons were in the air at the time.
Each of the three witnesses said the object made no sound.
Since the first disks were observed shortly after the close of World War II, there has been no official explanation of them.
They have been variously described as reflections of buildings in the sky, reflections of airplanes,, Russian secret weapons, and more generally — figments of the imagination.
Recently Com. Robert B. McLaughlin, guided missies expert and skipper of a Navy destroyer, said he was convinced that the disks were actually space ships from another planet. NOTE: The above image is CGI.
KEN PFEIFER WORLD UFO PHOTOS AND NEWS
HTTP://WWW.WORLDUFOPHOTOSANDNEWS.ORG
HTTP://WWW.KENPFEIFERDISCOVERIES.COM
THANKS TO http://www.project1947.com