Animal Mutilation is the killing and mutilation of animals under unusual, usually bloodless, and anomalous circumstances. Usually, but not exclusively cattle. Worldwide, sheep, horses, goats, pigs, rabbits, cats, dogs, bison, deer and elk have been reported mutilated with similar bloodless excisions; often an ear, eyeball, jaw flesh, tongue, lymph nodes, genitals and rectum are removed.
The earliest known documented outbreak of unexplained livestock deaths occurred in early 1606:
2015. A farm in Syston, Leicestershire. Two horses found were mutilated. Claire the horse's owner discovered the first horse on the morning of 7th Sept She took photos with her phone and sent them to her friend who was a vet. The Vet stated the injuries must have been caused by a very sharp instrument, but she was mystified by the lack of blood. Procedures noted included a jaw strip, ear removal and removal of horse chestnuts which are small lumps on horse's legs. There was no blood on the ground around the animal or in the field itself and no drag marks in the field. The owner noticed that the other horses in the field refused to come over to the dead horse.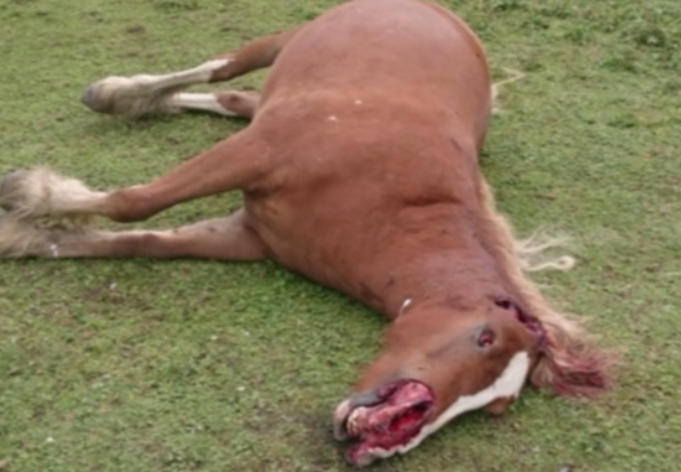 Below is an excellent video by Richard D Hall and David Cayton on the two horse mutilation cases in 2015 Leicester England. The run around by the authorities is equally fascinating.
In the early 1990s that in the Orkney Islands, 30 decapitated bloodless Grey seals were found, none of their heads was ever discovered.
In late 2009 David Cayton was informed of more than 50 mutilated seals found off the Norfolk coast, mainly pregnant females. Strange spiral cuts starting at the left lower jaw and spiraling round to the body. Just deep enough to take outer skin and blubber and a piece of muscle. Others were discovered in Scotland. In the Firth of Tay, seven were found dead in June 2010 out of a breeding population of only 150. Eighteen further deaths have been reported in St Andrews Bay and the Firth of Forth.
Callan Duck, a senior research scientist at the Sea Mammal Research Unit (SMRU) at St Andrew's University, said: 'We simply don't know what is causing this."
"We are finding seals coming ashore dead with these highly unusual lacerations right around their body like a spiral. From their head down they can have one or two complete revolutions to their abdomen. It is a continuous cut with a very smooth edge."
The injuries are not consistent with any known phenomenon, such as those caused by fishing nets or boat propellers, although researchers believe they are mechanically produced by a rotating single blade.
The above 2 images were allegedly taken on a farm in Montana Jan 26th 2016 through the hunting scope of a rifle. You can see a cow suspended below a UFO, the head of the cow angled backwards
SEE VIDEO HERE >> https://youtu.be/7BJpfv5GpPw
SPECIAL THANKS TO https://badaliens.info/
KEN PFEIFER WORLD UFO PHOTOS AND NEWS
HTTP://WWW.WORLDUFOPHOTOSANDNEWS.ORG
HTTP://WWW.NEWDISCOVERIES51@YOLASITE.COM
GOOGLE…..KEN PFEIFER RADIO
DUCK DUCK GO……KEN PFEIFER UFO